Jeremy Gugino
Council District 5
Bio submitted by candidate -
Residency: Lived in Boise since January 1,2006, residing in the East End the entire time.
Biography: Born and raised in Rochester, NY - the son of two teachers. Received undergraduate degree in journalism from the University of Missouri in 1995. Spent my first life working in TV news in Spokane, WA, Cincinnati, OH and Rochester, NY. Began second life at the Gonzaga School of Law. Graduated in 2005. Got a job clerking for a Federal Judge in Boise in 2006. Was a Bankruptcy Trustee throughout the Financial Crisis (yes, it was crazy). Retired in 2014. For the last six years I have been a political volunteer for various candidates, organizations and causes (see below).
Undergraduate School: University of Missouri School of Journalism (1992-1995).
Professional Experience (1996-2002): Producer at KHQ (Spokane, WA), WLWT (Cincinnati, OH); Executive Producer at WROC (Rochester, NY).
Graduate School: Gonzaga School of Law (2002-2005).
Professional Experience: Law Clerk for Chief Bankruptcy Judge Terry L. Myers (2006-2007), Chapter 7 Bankruptcy Trustee (2007-2014).
Retired: (2014-2017): travelled around the world, completed a tour of all 50 U.S. States (plus D.C.), climbed two mountains (Mt. Borah (ID), King's Peak (UT)), walked across New York State along the Erie Canal.
Political Experience (2017-present): Communications Director for Idaho House/Senate Democrats where I created a statewide network of media contacts to promote Sexual Assault Reform legislation, First Responders Bill, Quagga Mussel mitigation legislation and a change in the State Insurance laws to cover hearing aids for deaf Idaho children.
Communications Director for Reclaim Idaho while working to get Medicaid Expansion and the Quality Education Initiative on the ballot.
Along the way, I have knocked on doors and collected signatures, interacting with around 30,000 Idahoans from Sandpoint to Idaho Falls. That includes 20,000 door-knocks in the Treasure Valley for political candidates, causes and organizations. I have spoken with more Democrats, Republicans, and Independents than any single volunteer in the State of Idaho.
Mission: Boise needs strong and independent leaders who will stand up for ALL residents. That includes teachers, healthcare workers, librarians and more. I want our city to be a warm and welcoming place for everyone. I don't care what you look like, where you come from, or what profession you pursue. I want Boise to be a bastion of prosperity, opportunity and entrepreneurship for everyone.
Fun Facts: First visited Boise in 1995 as Truman the Tiger (University of Missouri mascot - named for Harry Truman) during the NCAA Tournament. Mizzou was ultimately defeated by eventual National Champions, UCLA (the Tyus Edney game).
Attended the University of Missouri with actor Jon Hamm.
My late Uncle Tom ran for State Senate in Delaware in 1970 on the same ticket as an upstart Wilmington City Council candidate named Joe Biden.
The JFK button you see on my picture belonged to my grandfather. He was a union tile-setter who got involved in national union politics during the 1960's.
President Reagan wrote me a letter in 1981 which I have to this day.
---
The City of Boise oversees only the Declaration of Candidacy, and provides historic documents as a courtesy. All other candidate documents are managed by Ada County Elections.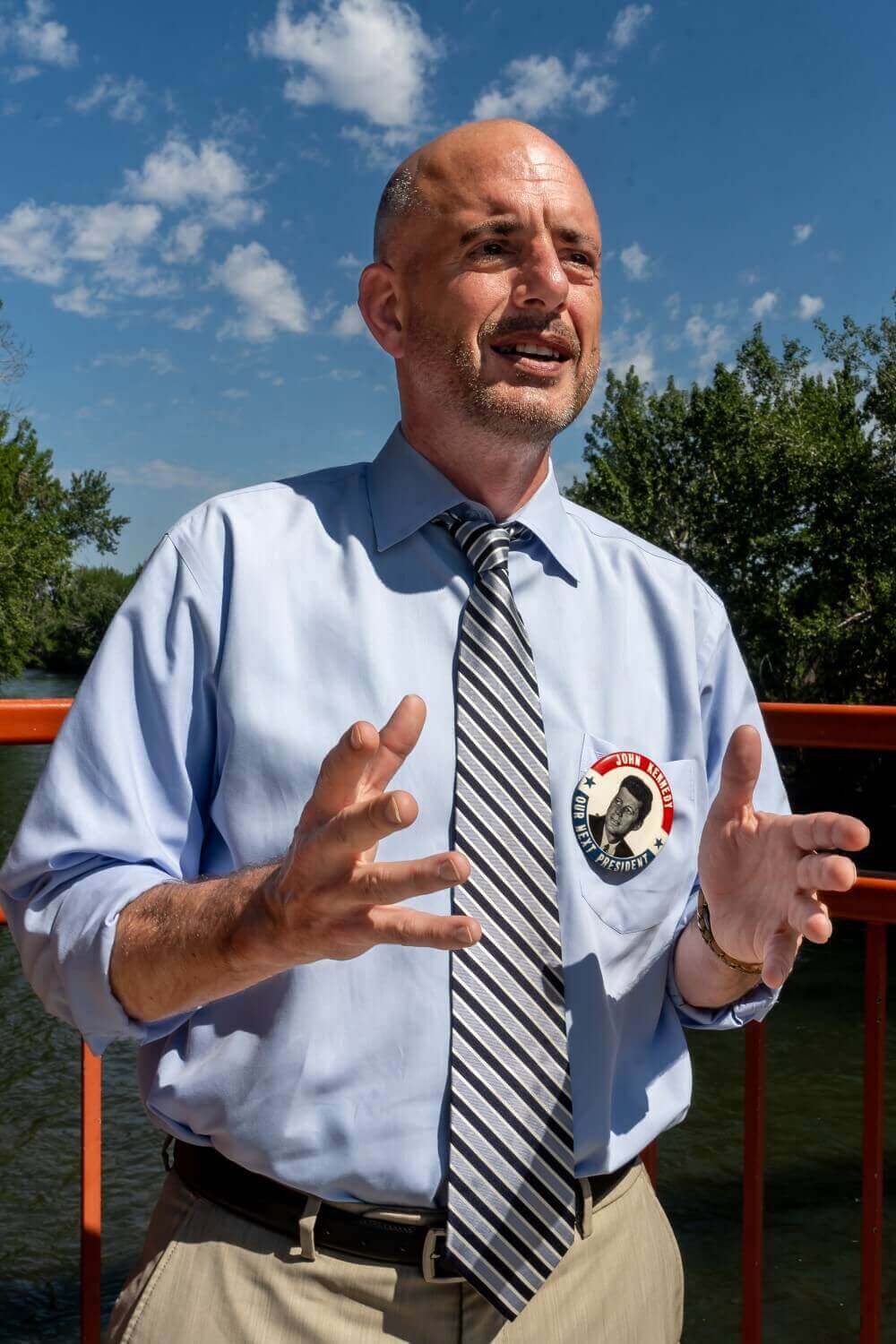 Send a Message to City Clerk
Please fill out the form and a representative from the city will be in touch with you.